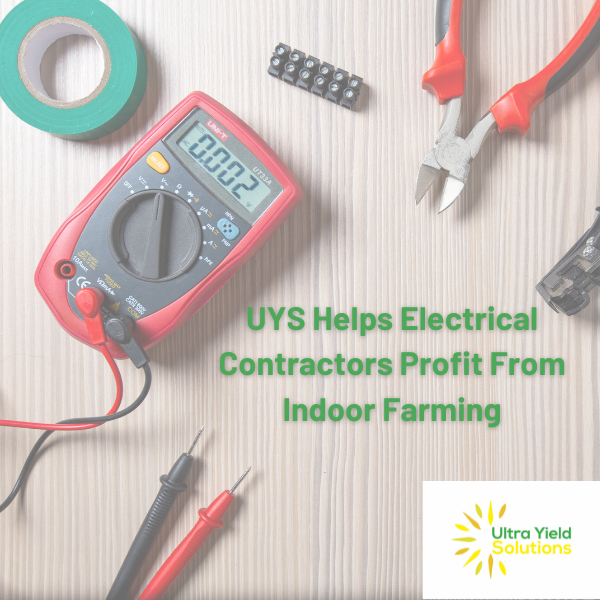 A note to Electrical Contractors from our President, Andrew Montgomery:
Indoor farming (aka, Controlled Environment Agriculture) is booming in many regions — and coming soon everywhere else. And without proper power, lighting, and control systems installed by trained experts, farmers know their indoor crops will not meet yield expectations (or maybe not grow at all). Trained electricians represent a critical link to indoor farming success. The problem is that most electrical contractors don't understand indoor farming, and farmers want to partner with suppliers that do. UYS can help. UYS provides contractors with the lighting products, training, energy management, and consulting expertise they need to help farmers achieve success in their business and a long-term customer for the contactor. Let UYS help you enter this new, big-ticket category of indoor farming and turn your company into the contractor of choice in your region.
Warm regards,
Andy
As the indoor farming industry continues to grow, rural electricians have the opportunity to expand their business by providing services to indoor farms. However, working with indoor farms requires a different set of skills and knowledge compared to traditional electrical work. In this blog post, we'll explore what rural electricians need to know about working with indoor farms.
Understanding the Needs of Indoor Farms
One of the most important things for rural electricians to understand when working with indoor farms is the unique needs of these facilities. Unlike traditional commercial buildings, indoor farms have specific requirements for their lighting, ventilation, and climate control systems. For example, indoor farms require specific light spectrums to promote plant growth, and these spectrums can vary depending on the type of crop being grown. As a result, indoor farms require customized lighting systems that can be adjusted to meet the needs of different crops.
Indoor farms also require advanced ventilation and climate control systems. Maintaining proper temperature and humidity levels is critical for plant growth, and indoor farms need sophisticated systems that can monitor and adjust these conditions in real-time.
Having a basic understanding of the needs of indoor farms is essential for rural electricians who want to work in this industry. By understanding these needs, electricians can provide customized solutions that meet the specific requirements of indoor farms.
Expertise in Horticulture Lighting
Another key factor for rural electricians working with indoor farms is their expertise in horticultural lighting. As mentioned earlier, indoor farms require customized lighting systems that can provide specific light spectrums for different crops. This requires an understanding of the different lighting technologies available and how they impact plant growth.
There are several types of horticultural lighting systems available, including high-pressure sodium (HPS) lamps, metal halide (MH) lamps, and LED grow lights. Each of these lighting technologies has its pros and cons, and rural electricians working with indoor farms must understand the differences between them to provide the best solutions for their clients.
LED grow lights are becoming increasingly popular in indoor farming due to their energy efficiency, versatility and long life. These lights can be customized to provide specific light spectrums, making them ideal for a variety of crops. They also have a longer lifespan compared to traditional lighting technologies, which can save indoor farms money in the long run.
Understanding Metrics and Standards
In addition to understanding the needs of indoor farms and horticultural lighting, rural electricians working with indoor farms must also understand the different metrics and standards used in this industry. Unlike traditional lighting systems that are measured in lumens and foot-candles, indoor farming lighting is measured in PPF (photosynthetic photon flux), PPFD (photosynthetic photon flux density), and DLI (daily light integral).
PPF measures the total amount of light emitted by a lighting system, while PPFD measures the amount of light that actually reaches the plants. DLI measures the total amount of light a plant receives over a 24-hour period. These metrics are critical for indoor farms because they help ensure that plants receive the right amount of light for optimal growth.
In addition to understanding these metrics, rural electricians working with indoor farms must also understand the different standards and regulations that apply to these facilities. For example, some states require indoor farms to meet certain energy efficiency standards, and electricians must ensure that their lighting systems meet these standards.
Electrical Contractors Profit from Indoor Farming by Working with Experienced Partners
Finally, rural electricians working with indoor farms should consider partnering with experienced companies that specialize in horticultural lighting and indoor farming. These companies can provide valuable expertise and support, helping electricians provide customized solutions that meet the specific needs of their clients.
Experienced partners can also provide access to the latest technologies and innovations in the indoor farming industry. This can help rural electricians stay competitive and offer the best solutions to their clients.
Partnering with a trusted lighting distributor like Ultra Yield Solutions can also help electrical contractors keep up-to-date with the latest advances in horticultural lighting technology. UYS is an industry leader in the specification and distribution of LED grow lights, which are becoming increasingly popular among indoor farmers due to their energy efficiency, long lifespan, and customizable spectral output.
UYS also offers a wide range of other products and services that can help rural electrical contractors expand their offerings and provide comprehensive indoor agriculture solutions to their customers. These include solar panels and energy storage systems, environmental controls, and consulting, installation, and maintenance services.
In addition, UYS can assist contractors in navigating the complex world of utility rebates and federal and state funding programs that are available to support energy-efficient indoor agriculture initiatives. By taking advantage of these programs, farmers can reduce their energy costs and improve the sustainability of their operations, while contractors can win more bids and build stronger relationships with their customers.
The Bottom Line
Working with indoor farms can be a lucrative opportunity for rural electrical contractors, but it requires specialized knowledge and expertise in horticultural lighting and facility integration. By partnering with a trusted lighting distributor like Ultra Yield Solutions, contractors can access a wide range of products and services that can help them succeed in this fast-growing market.
If you are a rural electrical contractor or distributor interested in learning more about partnership opportunities with UYS, please contact Andy Montgomery at Andym@ultrayieldsolutions.net. or use our contact form. Together, we can help power the growth of the indoor agriculture industry and build a more sustainable future for all.